"With photography, ink and paint, I explore the physical locations and inner places I've lived in and visited, each as an external and internal landscape. I seek to find the feeling of each space in time and to understand how a space remembers the people who have been there, even long after they have moved through.
I build each work with layers, each one representing a different experience of time and place. Working with moving shadows and shifting patterns, I look to capture moments as we move towards them and as they move past us.
I often start with a photograph that sets a reality on one plane, at one point in time. I then add my own notions of what might have come before and what might come after—in each case seeking to weaken the bind with the "real" reference of the photograph, moving closer to inner the compositions that we all experience." — VP
Born in New York City, Vivian Polak grew up on Long Island and the coast of Belgium—two places where the combination of water and flat land make for extraordinary light. After many years of working with photography, she now explores how to extend her vision by adding drawing and painting (primarily with inks and watercolors) to her photographs.
She studied at the Art Students League, the International Center of Photography, the New York Studio School and in workshops and studio classes at the Art Barge in Napeague.
Her works are part of numerous private collections and have been shown at The Cheryl Hazan Gallery in NYC; at Clic Gallery, folioeast, and Ashawagh Hall in East Hampton, and at Sylvester & Co at Home in Amagansett.
ARTIST'S CAROUSEL
rotating exhibit of current & recently sold work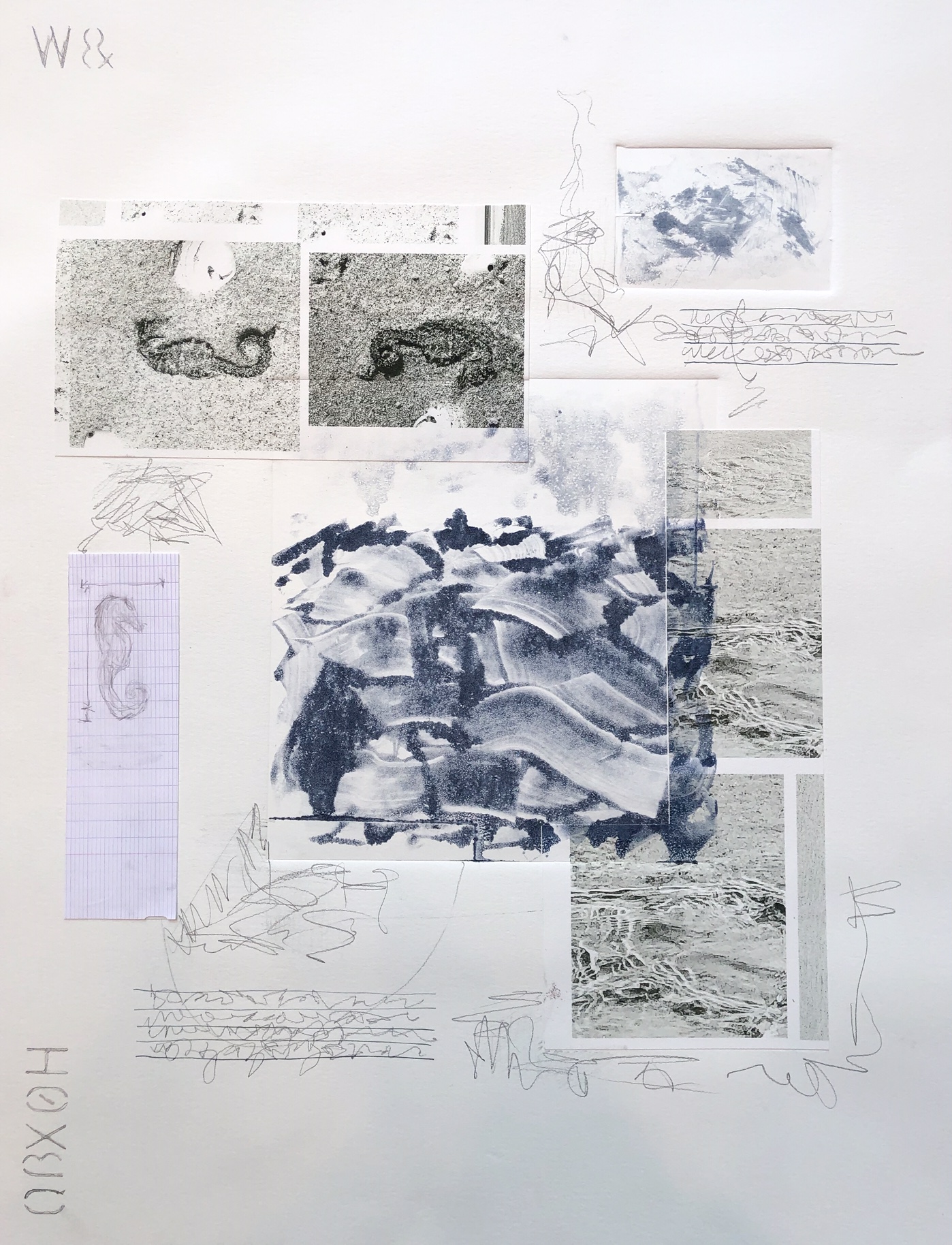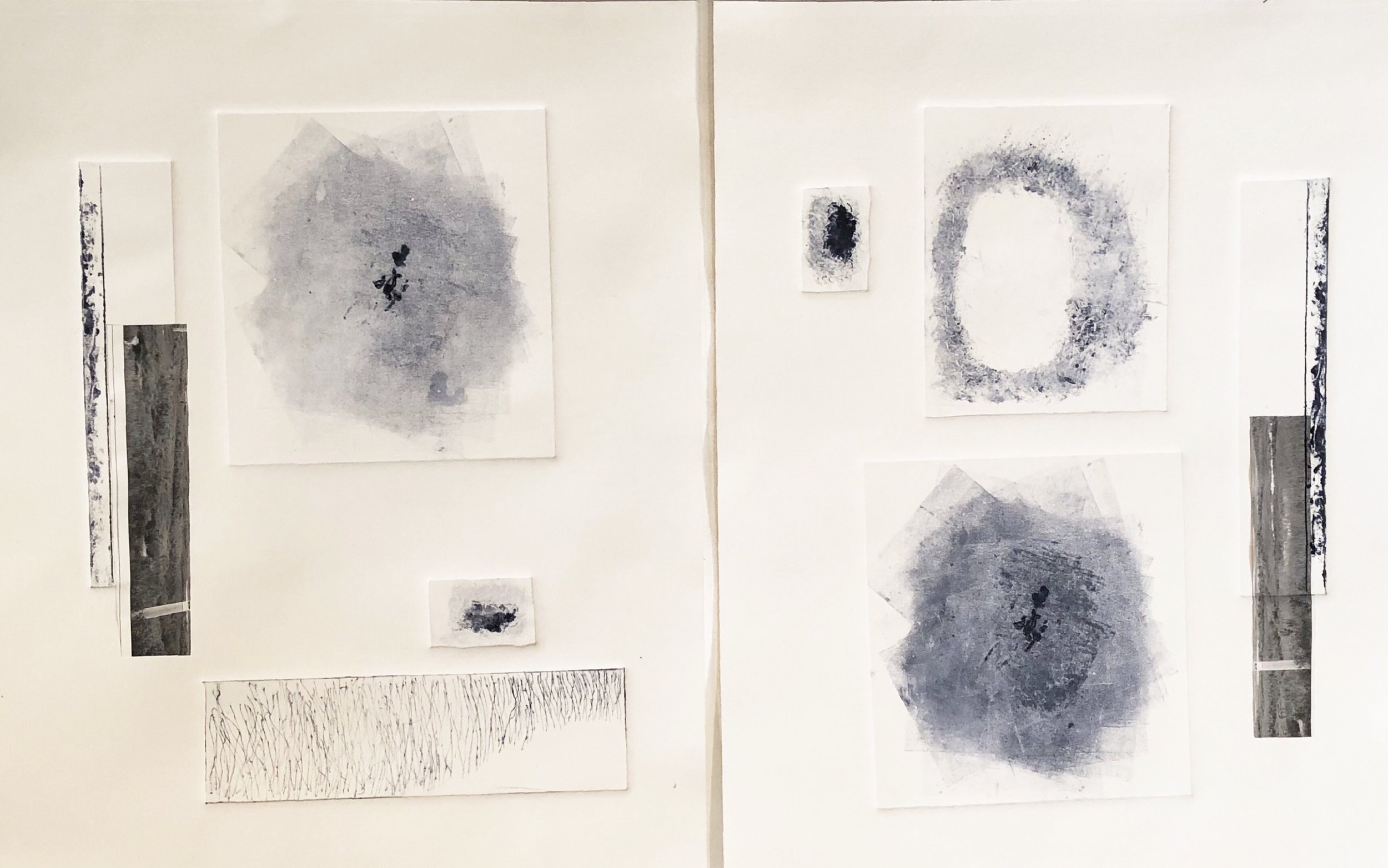 VIVIAN POLAK speaks to folioeast's COCO MYERS
CM/ WHAT MATERIALS DO YOU PRIMARILY USE? AND WHY?
VP/ I use my own photographs (archival prints), watercolors, ink washes, and etching/intaglio prints and monotypes made with oil-based inks. I find that the surprises and happenstances inherent in working with watercolor, ink, etching and monotypes often upend the certainty found in photographic images—in much the same way that the surprises in life play with the things we think are stable.
CM/ WHAT DEFINES YOUR PARTICULAR STYLE OR METHOD OF WORKING?
VP/ I toss away, or totally mix together, traditional processes and techniques.
CM/ HOW DOES THIS AREA INFLUENCE YOUR WORK?
VP/ The East End light permeates my work. The broad horizons (both ocean and land), as well as the telephone poles and wires, often form the key lines in my pieces. And the large skies of the East End often form the basis for the fields of color.
CM/ WHAT IS YOUR FAVORITE TIME OF YEAR?
VP/ I was about to say that late spring is my favorite, as the shoes go in the closet and the shorts come out; but then I thought of early fall when the ocean waves take on hurricane dramatics; but then I thought of winter when I'm captivated by the shadow patterns on the snow.
CM/ DO YOU HAVE ANY FAVORITE SPOTS ON THE EAST END WHERE YOU FEEL MOST INSPIRED?
VP/ Napeague Bay is one of my favorites—the views of ocean and bay, the horizon lines, the phone poles, the grasses. The walks along Fosters Path and Northwest Path often clear my head and open up trails I can follow in my mind for different approaches in the studio.
CM/ DO YOU DRAW INSPIRATION FROM ARTISTS ON THE EAST END?
VP/ Yes. I'm in love with the work of Louisa Chase. And Ross Bleckner.
CM/ DO YOU HAVE ANY WORKS BY EAST END ARTISTS IN YOUR HOME?
VP/ I've got several pieces by Michele D'Ermo, which totally capture the moods and colors of the East End. In my next life, I would love to have Louisa Chase's painting called "Wave" to look at every day.