"The central aim of my abstract sculpture is to examine the relationship of the individual to the external world. I pattern my work after the enormous sculptures and symbols of the past: Stonehenge, the heads of the Olmecs, and the Polynesians of Easter Island—all of which seem to be simply conceived, but carry powerful, emotional undertones.
As a philosophy major in college, I became fascinated with the mind's sense of self and its relationship with the fleeting, beguiling material world. Philosophical writings often describe this state of mind as isolating in a daunting world. I myself have dealt with these feelings at one time or another, and while I was in college I began to illustrate them in my sculpture and continue to do so.
On the surface, I want my sculpture to be poetically serene and tranquil but to also have an underlying, disconcerting subject matter. To convey this ambiguity, I use space, volume and a deceptive sense of scale. The existential feel I want communicated comes from establishing a vast, enigmatic space that expands from the sculpture. This space gives the simple geometrical monoliths that are often in my work the illusion of being alone and alive amid a surreal, elegant backdrop." — PP
Paul Pavia was born in 1971 in New York City, where he grew up immersed in the art world. His grandfather was a painter, his father, Philip Pavia, was a sculptor in the Abstract Expressionist movement, and his mother, Natalie Edgar, was a painter and art critic for Art News.
From 1986 to 1998, Pavia spent the summers studying the classical techniques in stone carving and bronze casting in Pietrasanta, Italy, a center for sculpture in Europe. He majored in Philosophy and Studio Art at Binghamton University, after which he concentrated on sculpture full time and had his first one-man show of work in welded steel at the Millennium Gallery in East Hampton, New York.
Several years later Pavia began welding in bronze, as well as incorporating other materials into his work: primarily marble, wood and stainless steel.
Pavia's work has been exhibited widely, including at Ashawagh Hall, Amagansett, NY; Butler Fine Arts, the Millennium Gallery, folioeast, and Solar, East Hampton, NY; the Sculpture Center, the American Academy, The Annex, 2nd Street Gallery, Phoenix Gallery, White Box Gallery and Side Show Gallery in New York, NY; and the St. Agostino Museum, Pietrasanta, Italy.,
ARTIST'S CAROUSEL
rotating exhibit of current & recently sold work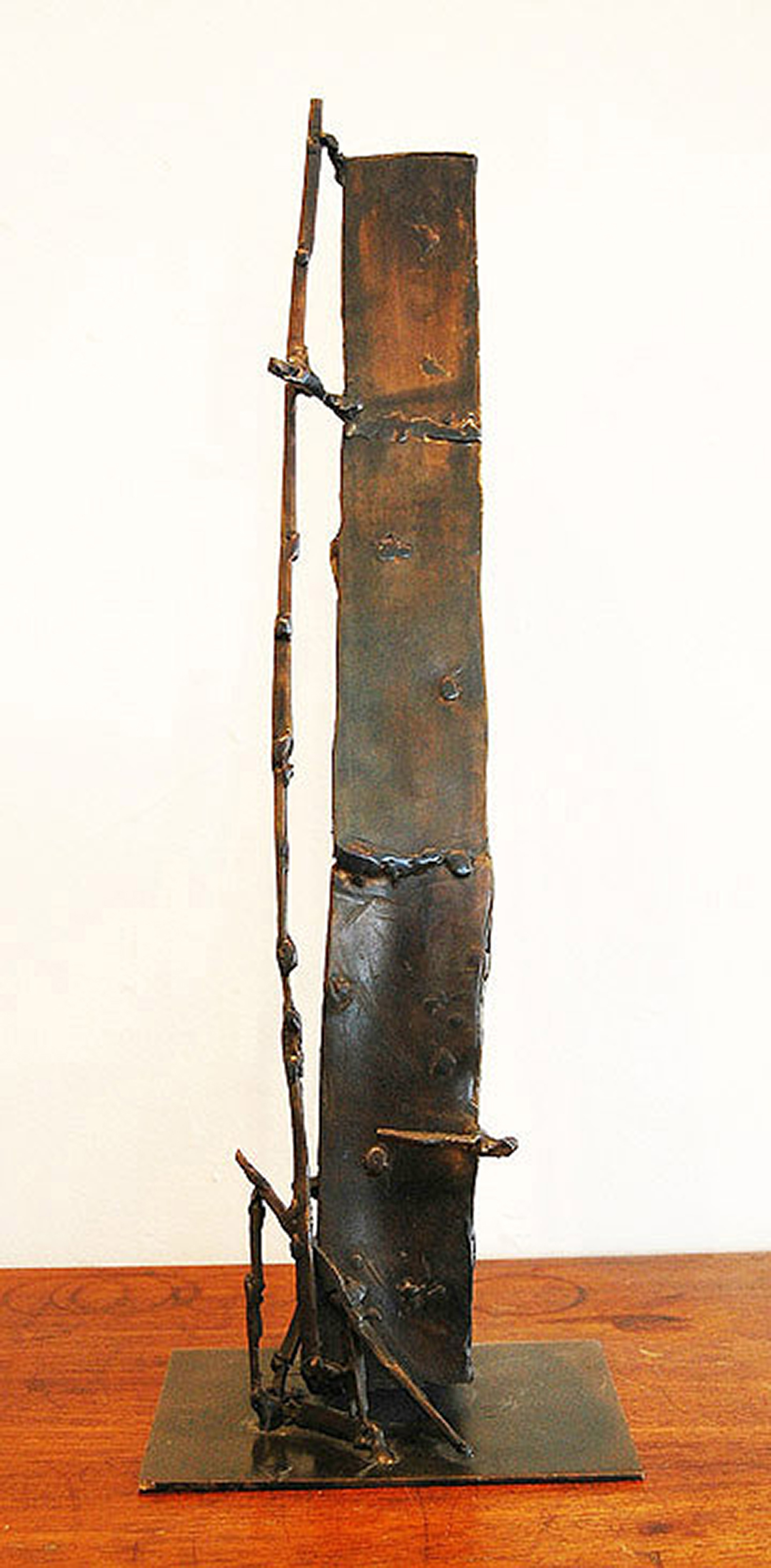 From an interview with the Paul Pavia by Mark Segal in The East Hampton Star, January 2017
"I became fascinated with the mind's sense of self and its relationship to the fleeting, material world. Philosophical writings often describe this state of mind as isolating amid a daunting world. I personally have dealt with these feelings at one time or another, and my sculpture has reflected them, from college to the present. I want it to express mystery and uncertainty."