"Very simply, I am inspired to make art because I love colors, shapes and textures.
I often start a piece with only a vague intention of composition and color and then let spontaneity and intuition take over. While I sometimes produce work that is representative, I am most moved to paint abstracted landscapes. I enjoy working with materials that have a tactile sensibility and believe in constantly challenging myself with new techniques, concepts and subject matter." — LO
Lesley Obrock grew up in the Midwest. Her formative childhood experiences, working alongside her seamstress grandmother amidst piles of fabrics and trims, had a profound impact that sparked a lifelong interest in texture, color and pattern.
Obrock studied painting and printmaking at Meramec Community College in St. Louis, MO and obtained a degree in interior design. She went on to open a private gardening business in St. Louis, which she ran for 18 years. She moved to the east end of Long Island in 2008 and returned full-time to making art in a variety of media—primarily printmaking, encaustic, watercolor and acrylic.
A member of the Artist Alliance of East Hampton, East End Arts and Springs Improvement Society, O'Brock has participated in numerous curated and juried shows, including two curated shows at the Islip Art Museum, Islip, NY, and the 2016, 2017 and 2018 Springs Invitational in East Hampton, NY, the Watermill Center, Watermill, NY, and in several folioeast shows in East Hampton. Her work can be found in private collections across the country.
ARTIST'S CAROUSEL
rotating exhibit of current & recently sold work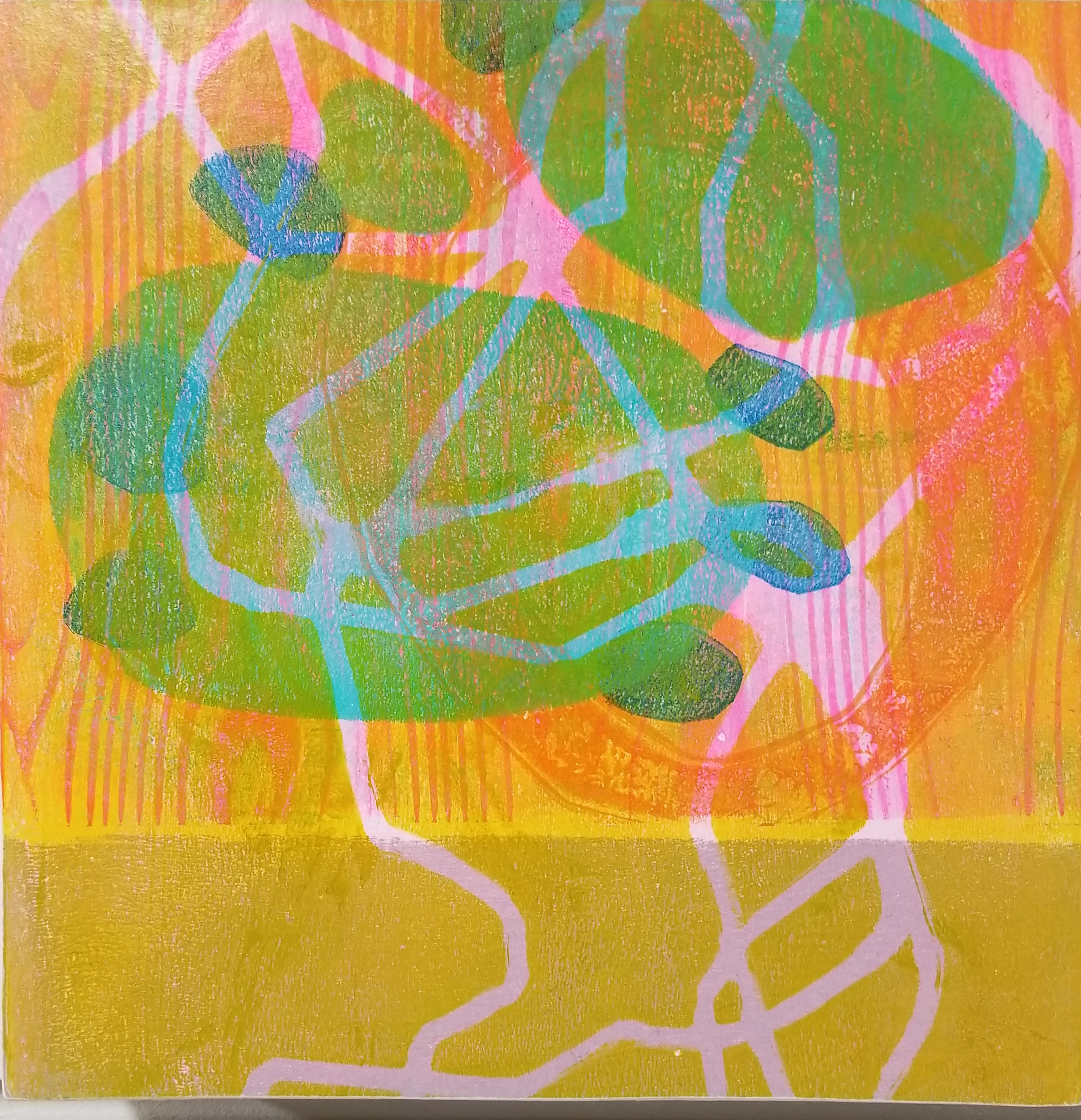 LESLEY OBROCK speaks to folioeast's COCO MYERS
CM/ Can you describe the mediums you work in and your process?
LO/ I primarily make monoprints or small editions of varied prints. I usually start with quick sketches, a general idea of composition and color and then just dive right in. Often I'll end up with something completely different, but that is the nature and beauty of monoprints.
With encaustic I use a mixture of beeswax, damar resin and pigment. It produces a wonderful wax paint that when applied to a substrate has a beautiful texture and luminosity. The materials and studio setup can be tricky. You need to have the wax in a liquid state while applying it to a substrate, then gently reheat it so it adheres to all the wax layers below. This is done with a torch or heat gun and you have to have excellent ventilation.
CM/ HOW DOES THIS AREA INFLUENCE OR INFILTRATE YOUR WORK?
LO/ The beauty of simple things. Sunsets, the way something has weathered from the ocean, there are a lot of things like that. Also, I've made some wonderful friends here.
CM/ WHERE DO YOU DO YOUR WORK?
LO/ I have a dedicated studio space with a printing press and encaustic setup that includes a hot palette for heating the colored waxes, scraping and incising tools, blow torch, a full range of brushes and a specially designed ventilation system.
CM/ ANYTHING ELSE YOU WOULD LIKE TO SHARE ABOUT YOUR WORK?
LO/ Any day I'm making art is a good day.