"Although I drew quite a bit as a child, I was not actually drawn to making art until my first year of college. By chance I took an art class with Charles Ginnever and Peter Forakis and realized right then that that's what I really wanted to do. I graduated with a BFA in sculpture and went to work for a sculptor named Robert Perless, who was building an all steel structure. That's when I learned to love steel.
I have always made art regardless if its degree of visibility. As a cabinetmaker I use materials from the construction trades—glass, wood, steel, plaster, and leaded copper for roof flashing. There is an honesty to them, and they come together in a balanced way that is my aesthetic equivalent to solving an equation.
Moving out here has allowed me access to what I consider its most precious resource: the water. I've spent a lot of time on the water, racing sailboats and kayaks. I always look for the currents on top of the water, how the wind is bending around a point or where I can get "free" energy from these elements. It's about being totally in the moment and letting the nature around me guide me. This is very much like my process with art." — MW
Mark Webber was born in Manhattan and graduated with a BFA in sculpture from SUNY Purchase in 1978. He moved to Sag Harbor in 1999 with his wife, photographer Francine Fleischer, and daughter. He has worked as a cabinet maker and fine furniture building at Custom Woodworking Design since 1981.
Webber has shown in group exhibitions at Guild Hall, Ashawagh Hall, and folioeast in East Hampton, NY, the Sara Nightingale Gallery in Watermill, NY, East End Collected at the Southampton Arts Center and Art Garden Landman, Southampton, NY; Anita Rogers Gallery, New York, NY; and at the Boston Biennial. He was also selected for the 2016 East End Arts Annual National Show.
ARTIST's CAROUSEL
rotating exhibit of current & recently sold work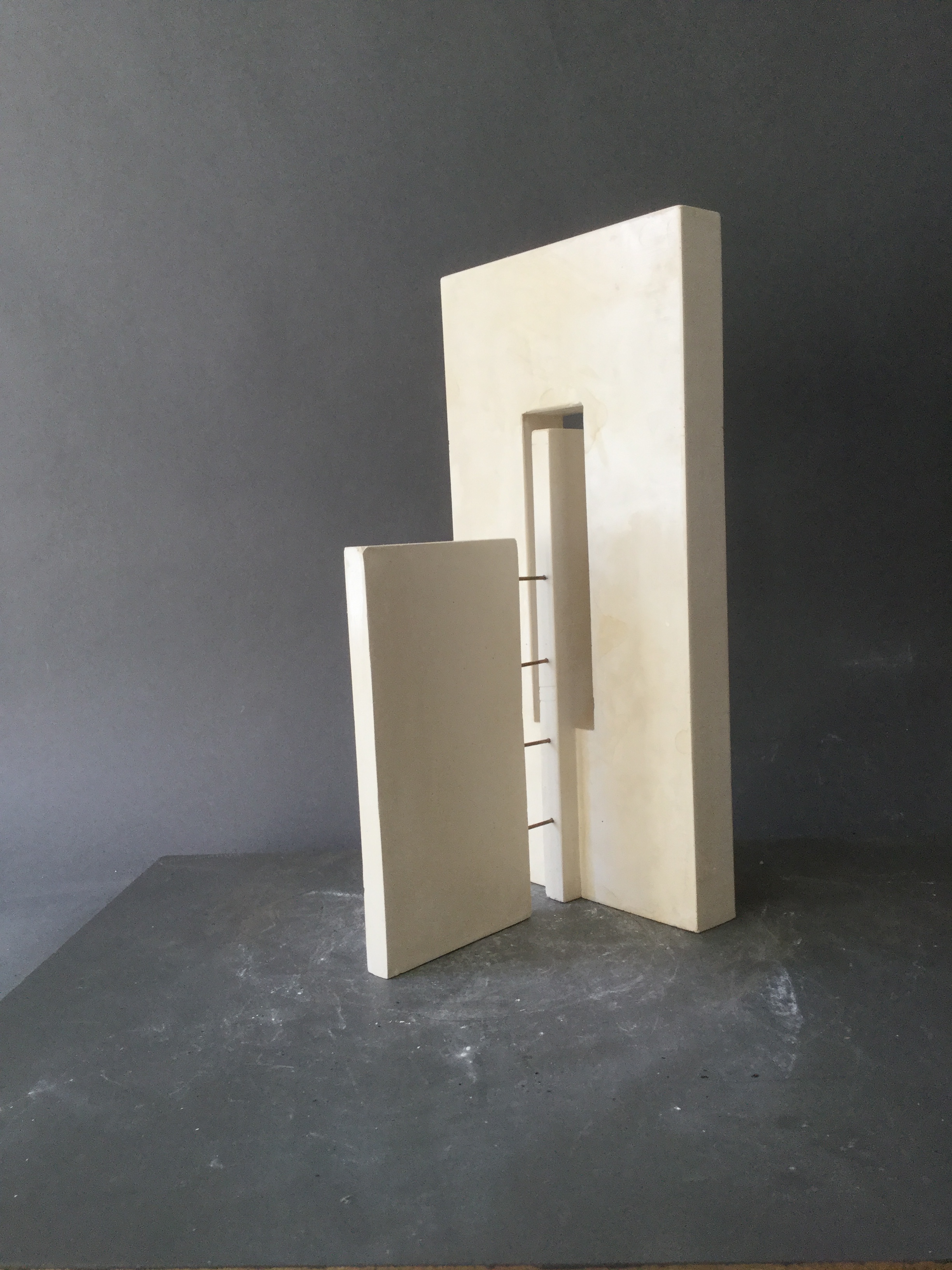 MARK WEBBER speaks to folioeast's COCO MYERS
CM/ WHAT MATERIALS DO YOU WORK WITH?
MW/ Most of my exploration involves working with Hydrocal (a type of plaster) in combination with another element, such as stone, steel, glass, or copper wire. In bringing these different materials together, I have found many alternative ways to mix and form the white powder and build the constructions that become my sculpture. It has led to innovative ways of working with the material.
CM/ WHAT BROUGHT YOU TO THE EAST END, AND WHEN?
MW/ I would have to say the water. Back in 1999, we (with my wife, photographer Francine Fleischer) were living in NYC and it was time to move. Suburbia did not interest us and the East End seemed culturally vibrant, not to mention the incredible opportunities to go to the beach or be on the water. It won out over heading for the mountains.
CM/ HOW DOES THIS AREA INFLUENCE OR INFILTRATE YOUR WORK?
MW/ I think anywhere one decides to live will ultimately influence one's work. I spend a lot of time on the water, sailing or kayaking. I would say that the play of the tides, the wind, and the currents have the most effect on me.
CM/ WHERE DO YOU DO YOUR WORK?
MW/ I have a large woodworking shop in an industrial setting and a smaller studio next to our house. Both offer different ways to focus on my art.
CM/ DO YOU FEEL A CONNECTION TO OTHER ARTISTS ON THE EAST END?
MW/ I would say that the strong art community out here is inspirational. I imagine that in other places artists might feel like they are working in a vacuum, but here it is so easy to get together for a dinner, a studio visit, and feel the support to be creative.
CM/ ANYTHING ELSE YOU WOULD LIKE TO SHARE ABOUT YOUR WORK/PROCESS?
MW/ Making art is not a solo endeavor, although it might appear that way. It is a relationship to the material, to the landscape, to the people around me, that are in constant change, and constantly challenge me to change, for which I am grateful.