"When I was three, I picked up a pencil and began to draw. My parents, who found this interesting, provided me with a table in the family kitchen on which to work. I would draw for hours at that table.
Growing up in rural Minnesota, I had a physical and emotional connection with the large skies and expansive landscape of the region. Along with this response to the natural world, I had an affinity with the abandoned farms, rusted cars and farm equipment, and the sense of the past that permeated this world.
The large landscapes I physically inhabited when I was young and the expansiveness of my vision brought me to painting. Through gesture, color, and form I can articulate my visual experiences and emotional responses to my life in a physical world. Abstraction allows me the opportunity to create landscapes that are a physical, rational response to external and internal experiences." — JH
John Haubrich was born and raised in Minnesota. He got an Associate of Arts degree from Normandale College in Bloomington, Minnesota and went on to a forty-year career as a graphic designer and art director for corporate and educational institutions. He is currently pursuing a degree in visual arts at Fordham University at Lincoln Center, where he serves as an in-house art director.
Haubrich's work has been exhibited at Ille Arts and Neoteric Fine Art, in Amagansett, NY; Guild Hall, folioeast, and Longhouse Preserve, in East Hampton, NY; the Southampton Cultural Center, and Chrysalis Gallery, in Southampton, NY; Boltax Gallery, Shelter Island, NY; Silas Marder Gallery, Bridgehampton, NY; A.I.R. Gallery, Lexington Avenue Armory, and Stricoff Fine Art, New York, NY; Los Angeles Center for Digital Art, Los Angeles, CA; and Axis Gallery, Sacramento, CA, among other galleries.
He maintains studios in East Hampton, NY and New York City.
ARTIST'S CAROUSEL
rotating exhibit of current & recently sold work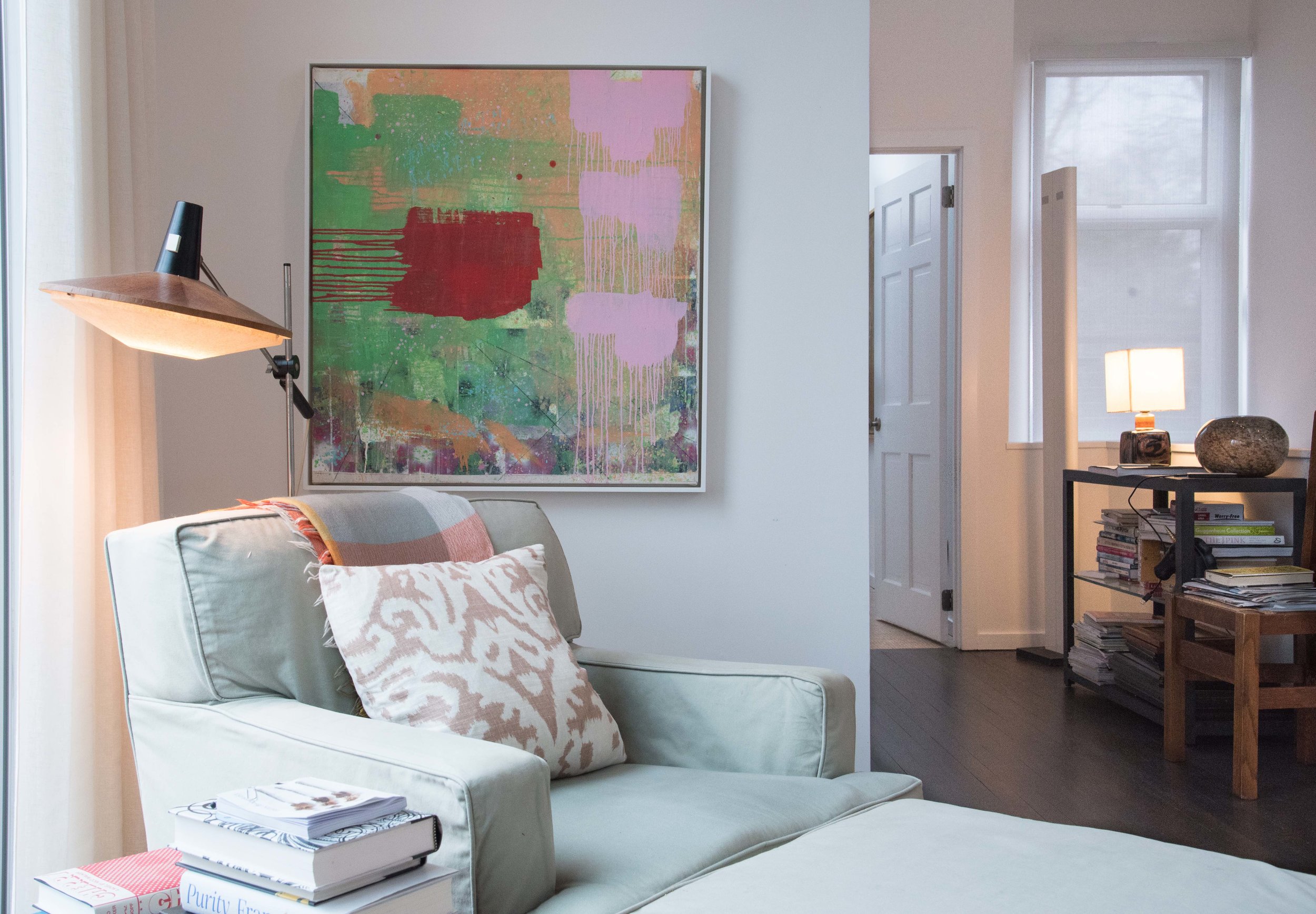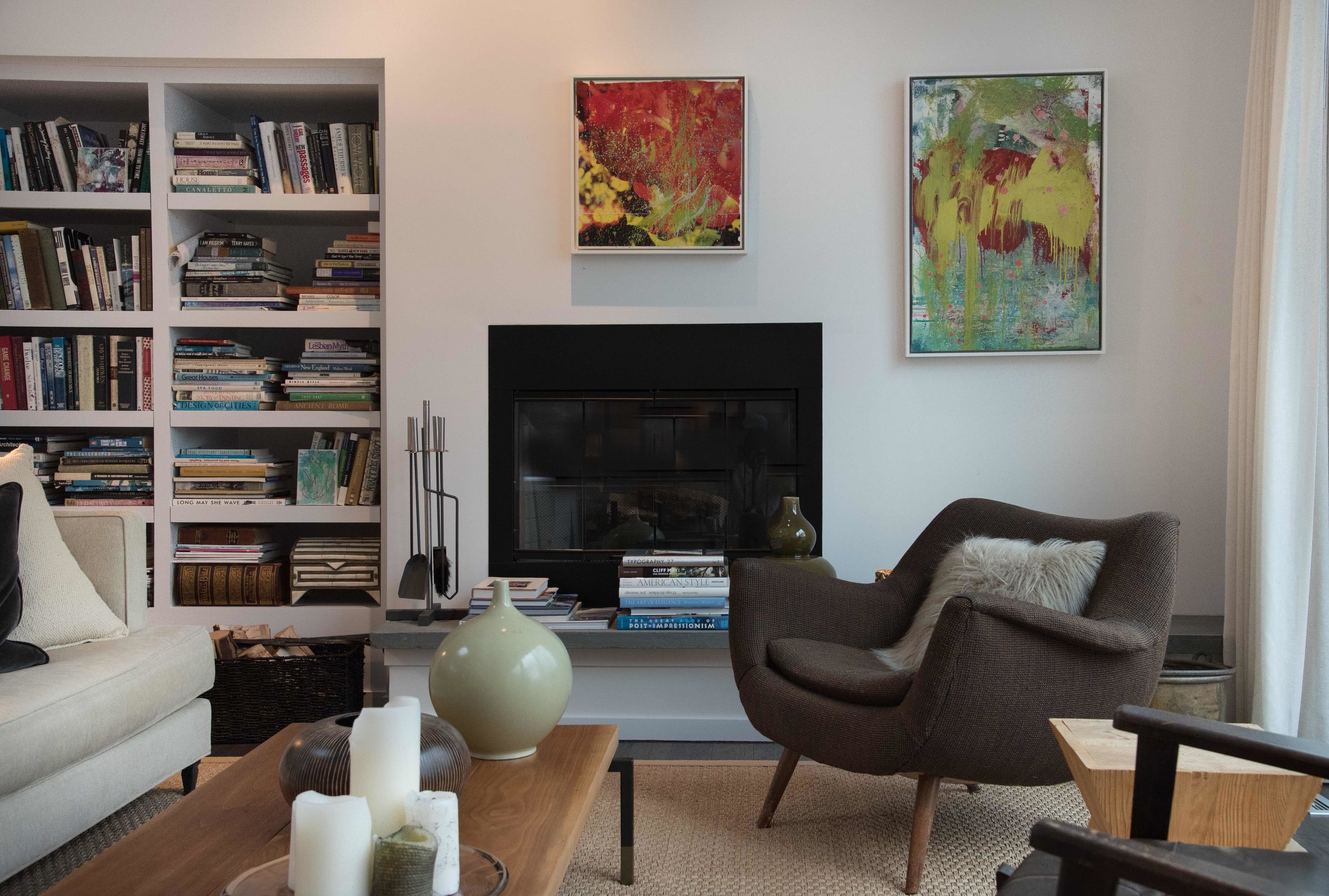 JOHN HAUBRICH speaks to folioeast's COCO MYERS
CM/ YOUR PAINTINGS ARE MULTI-LAYERED. CAN YOU DESCRIBE THE PROCESS?
JH/ Using my own photography, I print out the images, then with gesso and polymer emulsion, I transfer the printed images onto the canvas. After this, I begin to layer the work with oil paint, more image transfer, pencil, crayon, and oil stick, until there is material depth on a two dimensional surface.
CM/ WHAT BROUGHT YOU TO THE EAST END? AND HOW DOES IT INFLUENCE YOUR WORK?
JH/ I had visited prior to buying my first home, and I loved being near the sea. Also the landscape reminded me of my midwestern upbringing. I am inspired by the light, the color, and the abundance of plant life. I live on Hogs Creek so I have a beautiful view of the creek and the bird life that occupies the area.
CM/ DO FEEL A CONNECTION TO THE HISTORY OF THE ABSTRACT EXPRESSIONIST MOVEMENT ON THE EAST END?
JH/ I am particularly inspired by Willem de Kooning for his use of color and abstraction.
CM/ DO YOU HAVE ANY WORKS BY EAST END ARTISTS IN YOUR HOME?
JH/ I currently own two pieces by James Kennedy.