"My work is inspired by the age-old craft of blacksmithing and reflects both hands–on finesse and machined precision. Texture, color and beauty are the emblems of my craftsmanship. Metal is my medium because of the vast possibilities of form and function. Metal can defy expectations, evolving through blacksmithing, welding or fabrication from cold static bars and sheets to shapes that capture various aspects of nature. My aim is to create works that bring to life all of the properties and characteristics of metal that continually fascinate and engage me." — JD
James DeMartis was born in Brooklyn and raised in Westchester county. He began working with metals, both steel and iron, at C.W. Post College on Long Island and has been sculpting and custom crafting architectural metal with welder, torch and forge for over 30 years. In 2001 he opened his custom architectural metal, blacksmithing and sculpture business James DeMartis Metal Studio, in East Hampton, NY.
His commercial work includes custom designs for restaurants, hotels and retail spaces in the Hamptons and NYC, including 11 Madison Park, Nick & Toni's, The 1770 House, The Peninsula Hotel, The Greenwich Hotel, Oliver Peoples and David Yurman.
His sculpture has been exhibited at Guild Hall, folioeast, Arlene Bujese, Butler's Fine Art, and Ashawagh Hall, East Hampton, NY; Galley Merz, Sag Harbor; Nightengale Gallery, Watermill, NY; Bellport Lane Gallery, Bellport, NY; Excalibur Gallery, Brooklyn, NY; and Atlantic Gallery, New York, NY.
ARTIST'S CAROUSEL
rotating exhibit of current & recently sold work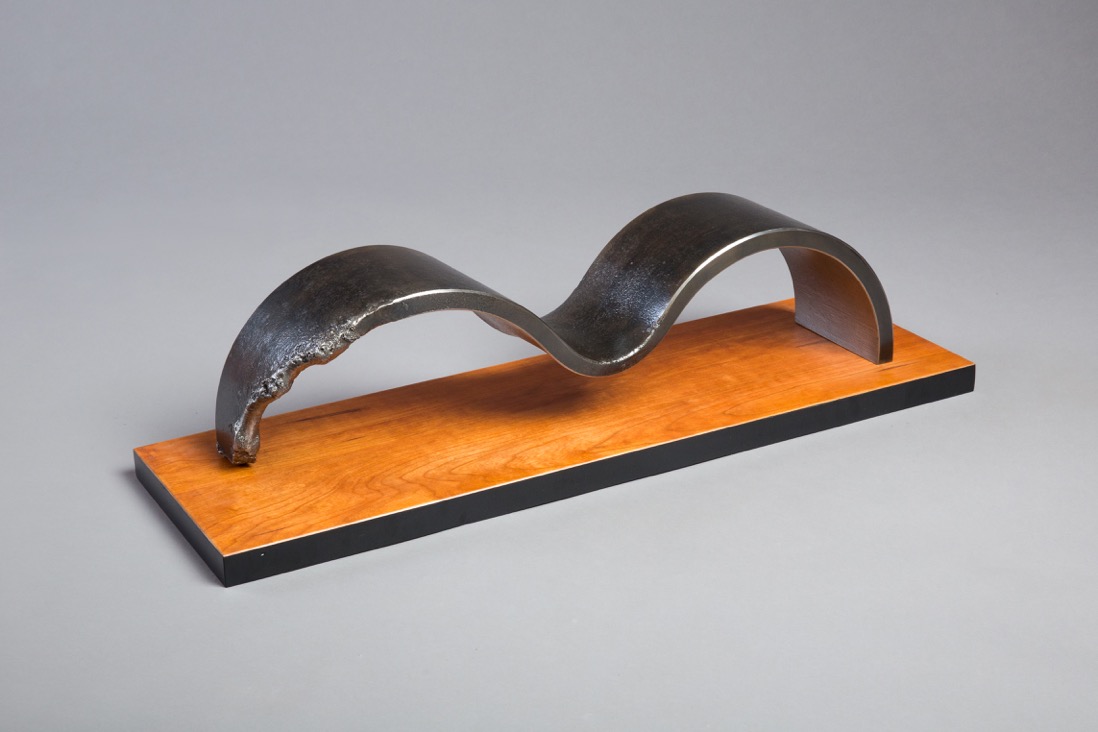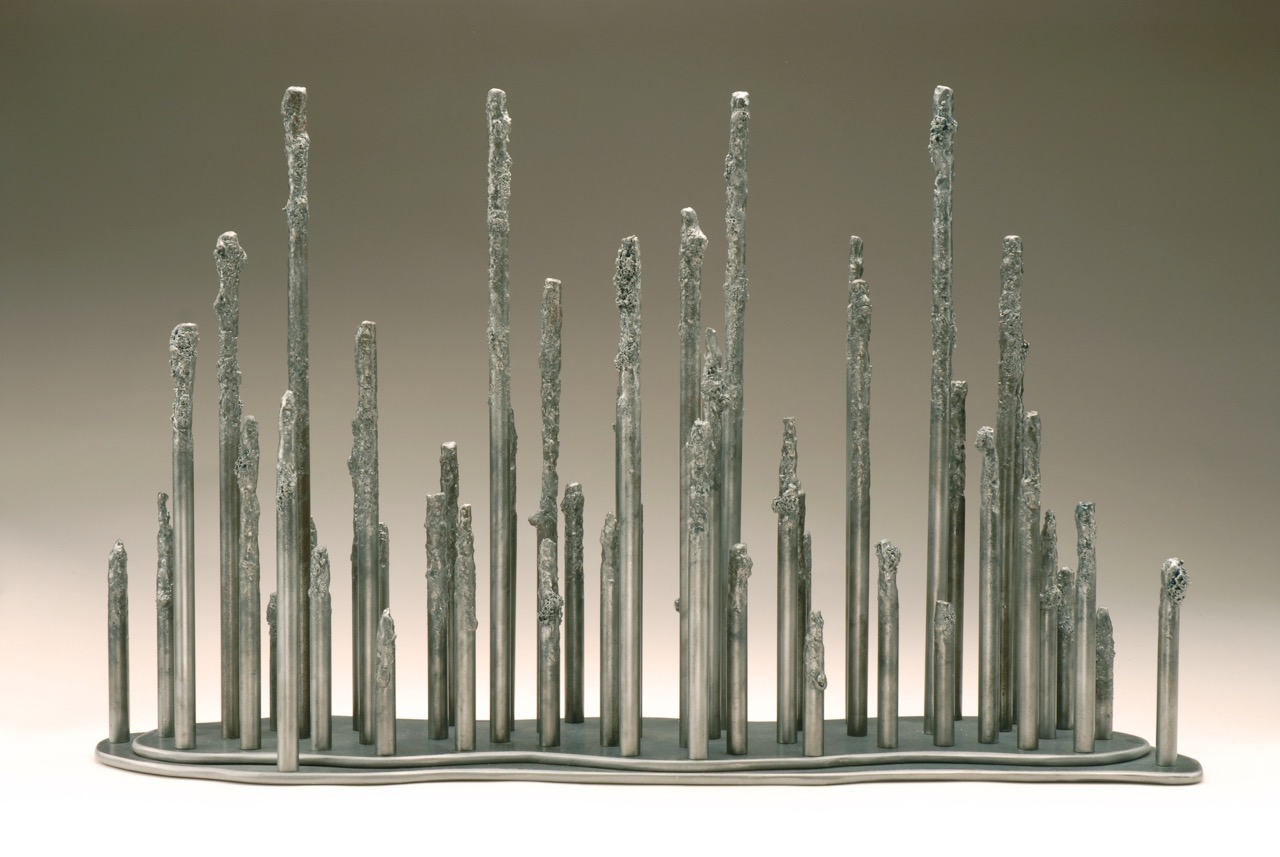 JAMES DEMARTIS speaks to folioeast's COCO MYERS
CM/ WHY IS METAL YOUR MEDIUM OF CHOICE?
JD/ When hot, it's plastic and malleable and when it cools, it's rigid, structural and permanent. I like the dichotomy between process and result, as well as the physicality of creation.
CM/ HOW WOULD YOU DESCRIBE YOUR PROCESS OF CREATING A SCULPTURE?
JD/ I like to have a basis for a sculpture, an idea or design and from its conception to completion I allow for spontaneity and improvisation. I enjoy experimentation while realizing the vision in my mind's eye. I use extreme heat to melt and manipulate metal and I love to combine disparate materials like wood, glass and stone to create tension or balance.
I am less wedded to style than I am to realizing emotion. Impulse and instinct govern materials, craft, composition and subject.
CM/ WHAT BROUGHT YOU TO THE EAST END? AND WHEN?
JD/ 1992. I answered an ad in The Village Voice for a sculptor's assistant position. I had never heard of the Hamptons and I was smitten at once. I moved out two weeks later, never looked back and found my home here.
CM/ AND HOW DOES THIS AREA IMPACT YOUR ART?
JD/ My surroundings influence my work as air fills my lungs. There is great beauty, but also extremes in weather and class. The disparity of wealth between the highly affluent, the service industry, and the local bonackers and their traditions results in tension, irony and humor which manifests itself throughout my work.
CM/ WHERE DO YOU DO YOUR METAL WORK?
JD/ I rent a studio 2.5 miles from my home. I'm there six days per week sculpting and making custom architectural commissions.
CM/ DO YOU HAVE ANY WORKS BY OTHER SCULPTORS IN YOUR HOME?
JD/ I love my Paul Pavia, Don Saco and Dennis Leri sculptures.